MMCDC Helps Transform the Ford Center in Detroit Lakes
Jobs Created:
More than 1,000 workers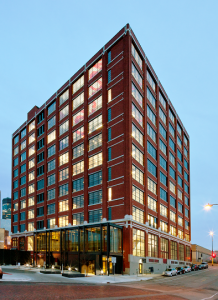 Transformation of the Ford Center from dilapidated warehouse-style building to upscale office complex was a significant community development feat in Minnesota. It combined two federal tax credits –New Markets and Historic – with other financing to reinvigorate the old Ford Motor assembly plant for its next 95 years of service. MMCDC's attractive $9.5 million loan was part of a large financing package. The 11-story building's interior design contrasts enlarged black-and-white photos of the Ford factory with contemporary art, lighting, and decor. When fully leased, this 270,131-square-foot structure will house 1,000-plus workers in a neighborhood with a 36.6 percent poverty rate and a 22 percent unemployment rate.
PROJECT SPONSOR:

Midwest Minnesota CDC Julia Nelmark 218.844.7019
PROJECT HIGHLIGHTS:
Transformation of the Ford Center from dilapidated warehouse-style building to upscale office complex
Programs used: New Markets Tax Credit and Historic Tax Credit
Partners: United Properties (developer), National Park Service, Minnesota Historic Preservation Office, private lenders, local government
COMMUNITY PROFILE:
Detroit Lakes, MN
Poverty rate of 36.6%
Unemployment rate of 22%
Located in Minnesota Historic Warehouse District
Median family income 21% of area median income (as of 2000 Census)