CAP Services Loan to Vibracon Plus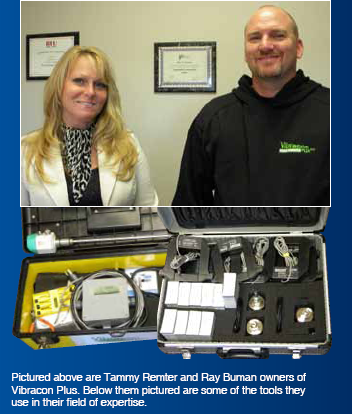 Sister and brother partners, Tammy Remter and Ray Buman decided to combine their expertise and open their own business in the summer of 2009. Identifying the commercial need to reduce energy use, they began offering Ultrasonic Leak Detection along with other energy saving audits to medium/large sized businesses
throughout the Fox Valley.
Vibracon Plus, LLC, specializes in saving businesses money by implementing Proactive Maintenances Programs which turns costly energy leaks into energy savings. Vibracon identifies compressed air, gas and
steam leaks along with Infrared Imaging, Bearing Analysis and complete Compressed Air System Energy Audits.
They accomplish this with state-of-the-art equipment such as: Ultrasonic Leak Detectors (detects leaks below human hearing range), Thermal Imaging Camera for Electrical Inspections (assessment of electrical faults in equipment), and Various Data Loggers (tracks system operation).
Demand for their services rose dramatically in 2012 and Vibracon received audit requests from businesses
throughout Wisconsin and in neighboring states such as Minnesota. To meet the growing demand, Ray and Tammy realized they need a newer, more reliable service truck and additional testing equipment to allow them to perform Complete Compressed Air System Energy Audits.
CAP Services, Inc. worked closely with Vibracon to expand their new service market and determine their funding needs. CAP provided a $35,000 loan to the business to purchase a service truck, additional specialized testing equipment and provide the working capital needed to expand the business outside of the Fox Valley area.
About CAP Services, Inc:
CAP Services is a non-profit Community Action Agency founded in 1966 to bring about a permanent increase in the ability of low-income individuals to become economically and emotionally self-sufficient.
CAP's Business Development Program has demonstrated that self-employment and job creation are effective strategies in helping low-income individuals attain self-sufficiency. Since 1988, the program has helped 319 businesses start or expand, resulting in the creation of 660 living-wage jobs.
The three year success rate of CAP Services' assisted businesses of 85% has been achieved by helping
entrepreneurs complete a comprehensive business plan, secure adequate financing, and receive preand
post-start technical assistance.