Emerging Green Industry Company Expands Facility
Jobs Created:
23 new positions were created
The Northwest Side Community Development Corporation (NWSCDC) will use CED funding to expand a new, emerging green industry company known as Helios Solar Works in Milwaukee, Wisconsin. NWSCDC will assist Helios Solar works with capital equipment purchases and working capital to facilitate its rapid growth as the company expands its production line and establishes additional shifts to meet new orders from solar panel installations in the United States and Europe. Seventy-five percent of the new, full-time assembly line positions created by the project will be provided to low-income workers, who will have access to specialized training, childcare, substance abuse counseling, and life-skills orientation. NWSCDC will work with the Milwaukee Workforce Investment Board to place low-income workers in the new positions. This project will address a number of challenges that entrepreneurs and local residents have faced by replacing the manufacturing jobs that have disappeared from the two major industrial centers in the area, and will continue the positive impact that NWSCDC's initiatives have had on the community by reducing poverty and crime and increasing employment.
NWSCDC's loan sourced from OCS-CED funding became part of an $11 million financing package. The total package included private investment, traditional bank loans, a loan from the then State of Wisconsin's Commerce Department, and the Milwaukee Economic Development Corporation, another local CDFI.
The NWSCDC's financing was the last money in to the deal and was used to help Helios purchase additional equipment to improve their solar module assembly line. The improvements were required by international private label customers of Helios. Without the OCS loan from the NWSCDC, Helios would not have been able to compete for the private label business for their modules, a multi-million dollar source of revenue for them. The NWSCDC's loan in 2012 helped to create 23 manufacturing jobs with a projected total of 36 jobs to be created by Helios. The NWSCDC is also developing another project using tax credits which will incorporate Helios solar panels in the design, furthering NWSCDC's support for Helios, the Northwest Side of Milwaukee's business climate and green technology.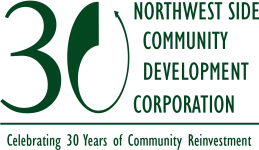 PROJECT SPONSOR:
Northwest Side CDC Milwaukee, WI Howard Snyder 414-447-8230
PROJECT HIGHLIGHTS:
Capital equipment purchases and working capital for emerging green industry company
Total Project Cost: $11,416,944
$740,402 in CED funding
Program used:Community Economic Development Grants
Partners: Other CDFIs including the Milwaukee Economic Development Corporation and the Wisconsin Economic Development Corporation
COMMUNITY PROFILE:
Milwaukee, WI
Unemployment rate of 14.01%
Poverty rate of 59.7%