Twin Cities Entrepreneurs Realize Their Vision
Jobs Created:
50 full-time jobs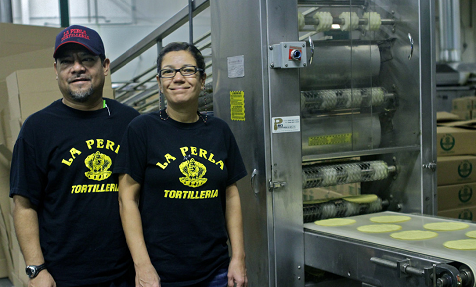 With their five children and another on the way, the Payans moved to Minnesota from Chicago in 1993. They soon noticed there were no fresh tortillas in Minneapolis, and with a growing Latino community in the Twin Cities, they saw a need and decided to open up their own tortilla factory.
After being turned away from several banks for lack of a business plan, Noemi began searching for help. She eventually found John Flory with Whittier CDC and Neighborhood Development Center, who were working in partnership with Project for Pride in Living to help a group of Latino entrepreneurs realize their vision of opening the Mercado Central on Lake Street in South Minneapolis. The Payans took NDC's entrepreneur training course with Whittier CDC and wrote a business plan for Tortilleria la Perla. With financing from NDC and other nonprofit lenders, they opened their first location, selling corn tortillas, at the Mercado Central, where they are still operating today.
As their business grew, NDC provided technical assistance and additional financing to help them open a second location on the East Side of St. Paul. Eventually, they outgrew this location and moved to a 16,000 square-foot factory in South Minneapolis, expanding their product base to include flour tortillas, tortilla chips, and tostadas.
The Payans have grown from offering a few part time, minimum wage jobs when they began to owning a business that employs nearly 50 full time people and generates $3.2 million in sales annually. Five of their six children work full time for the family business, and the youngest helps out when not in school. Tortilleria la Perla distributes tortillas throughout Minnesota and Wisconsin, selling in Cub Foods, Rainbow, Target, Wal-Mart, and to more than 150 small businesses.
NDC continues to support the Payans with loans and technical assistance. "Without NDC we wouldn't have started. We couldn't have done it by ourselves. Thank you to NDC and to all the people who work at NDC who help us keep going."
LEARN MORE:

Neighborhood Development Center
www.ndc-mn.org • 651.291.2480
663 University Ave, Suite 200
Saint Paul, MN 55104